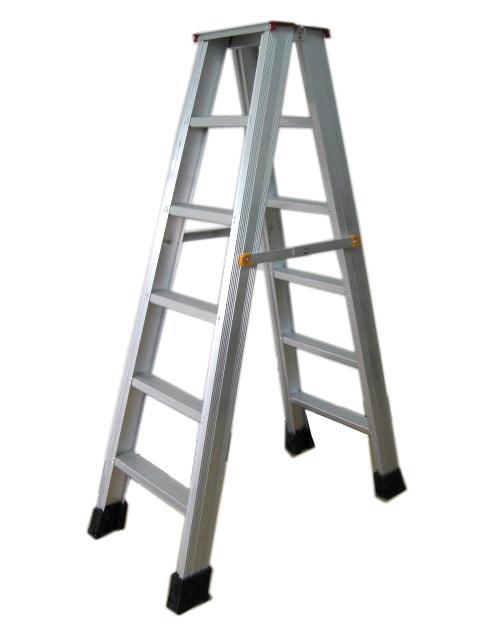 Aluminium Ladder - Double Sided
Get a double sided step ladder for your daily house needs.This ladder is so easy light and easy to carry around the house.Any family in Malaysia should have a ladder for their own use. A ladder Malaysia is a basic necessity at home.

If you need a ladder to change alight bulb, clean the ceiling fan, wash the aircond filter, hand up your shirt, reach up in to the ceiling. This is the right ladder for all your household needs. This house ladder is capable for your everyday needs in Malaysia.

It is fold-able and easy for storage. There is no need to worry too much about it. With such a low, value price point, you know it is a great bargain when you see one. A folding ladder is just great as it is easy to move around,and place it outdoor or indoor. The easy, and simple one step folding movement of the ladder makes it very easy to handle for any person being a children, women, or men.

This ladder is as light weight or maybe lighter than 1 bottle of 5 liter cooking oil. It is easy to handle. To clean it, just wipe it with a wet cloth and it is ready for use again.
Item Type: LADDER
Brand: ALUMINUM LADDER
Item size: 127.2cm x 30cm (height x max diameter)
Item weight: 6kg
Package size: 31cm x 13cm x 130cm (L x W x H)
Package weight: 6kg
---