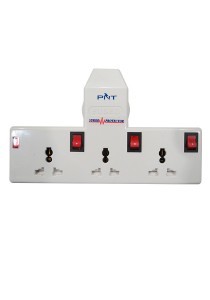 PTN 3GANG ADAPTOR NEON SURGE
SUM 5 Gang Extension Socket Outlet with 3 x 1.25mm² Full Copper Wire 5M (SIRIM APPROVAL)
- 100% SIRIM Tested & Approved
- Easy for 2 pin friendly plug in
- Fire Retardant Material
- Individual Neon Indicator
- Child Safety Shutter
- Cable Length: 2/5 Meters
Warning:
* ALWAYS have earth connections for safety reason.
* Do not exceed the maximum loading of 3250 Watts.
* Use only in indoor and in dry surroundings.
* Uncoil before use
* If in doubt, consult a qualified electrician.
Recommended Connection for:
- Home Electricals
- Audio Video Sets
- Office Equipment
- Computers
- Peripherals
- Power hand tools
Specification:
Voltage: 250V – 50Hz
Max Load: 13Amp
Max Rate: 3250 Watts
Fuse Standard: 13A, BS 1362, SS 167
Cable Rating: 3 Cores x 1.25mm²
PSO Standard: SS 145/S, MS 589/A, BS 1363/A
Plug Top Standard: SS 145/A, MS 589/A, BS 1363/A
Power Indicating Pilot Lamp
Flame retardant, up to 750C˚.
---